As of 11 February 2008

Chronology of Stranded OFWs CampOut
at Philippine Consulate in Jeddah, Kingdom of Saudi Arabia
Early December 2007
- Undocumented and runaway workers of various nationalities, including Filipinos started their daily routine of going to the Deportation Office of the Kingdom's Immigration Police in Jeddah, Saudi Arabia in the morning then leaving in the afternoon.
23 December 2008
- Migrante KSA received reports of various nationalities massing up near the Immigration Office from various sources.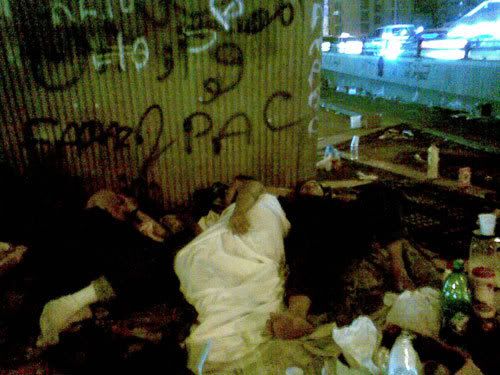 15 January 2008
- Kapisanan ng Migranteng Pilipino (KMP) reports the presence of 50 Filipinos camping out under Al Khandara Bridge.
17 January 2008
- TFC reporters aired the video of the OFWs staying under the bridge. Migrante KSA tasked KMP to monitor the situation. The group presented their appeal to Consul General Ezzedin Tago.
Last week, January 2008
- Congen Tago visited the group and told them that the only way for them to be repatriated is to undergo "due process" which the group declined. Fixers and other nationalities told them that the only way for them to be repatriated is to pay the Immigration Police.
02 February
- Migrante KSA decided to visit the group camped out under Al Khandara Bridge. Group leader Carlos Rebutar and Fernando Francisco presented their plans of 'campout' at the Philippine Consulate in Jeddah and sought the support of Migrante.
03 February
- Women inside the Welfare Center reported 23 signed a paper identifying those who agreed to be deported instead of waiting for 'due process' on their respective cases. Some 68 'runaways', including 17 women and one child trooped to the Philippine Consulate in Jeddah to request assistance for repatriation. ConGen Tago told them to go back to the Bridge and wait for the Saudi Immigration Police to pick them up within three days but Tago specifically stated that their number of 18 women and 50 men should never increase.

04 February
- 15 additional men came as they were tipped by fixers a pick-up is expected. Buses from the Saudi Immigration Police arrived, the men fall in line but Immigration Police refused to pick them up since they counted more than 50. When they returned to their tents later, their food and some tents were missing.
05 February
- The 18 women were picked up and detained at the Deportation Area. Seven additional women came. One lady from the original 18 was not able to ride the bus. The number of men now swelled to 65. Consulate staff delivered several kilos of frozen bananas. Migrante Womens Committe visited the tentcity.
06 February
- The 'stranded' Pinoys trooped to the Philippine Consulate in Jeddah. The number swelled to 90, with 12 women (two of whom were pregnant) and 2 babies. Another dialogue with ConGen Ezzedin Tago came to nothing.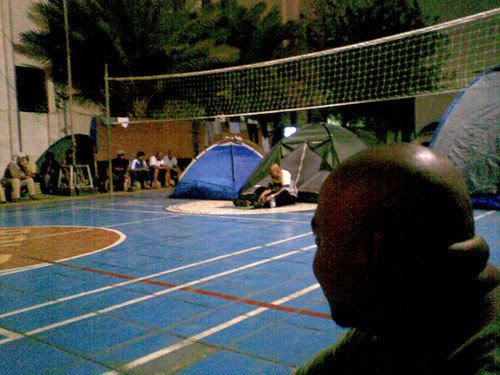 07 February
- Two among the group accepted Tago's offer for 'due process.' Migrante KSA Chairperson and Migrante Jeddah Chairperson visited the 'stranded' OFWs and later asked ConGen Tago if they would be transferred to a safehouse away from the Consulate. Tago said its all 'chismis.' Later in the evening, Ambassador to Riyadh Antonio Villamor came with officers of the Philippine Guardians. The Guardians tried to convince its members from among the group to agree with Tago's 'due process' but they refused. A Christian group came and distributed food.
08 February
- Another dialogue ended in stalemate with Tago insisting the 'stranded' OFWs were never giving out their real names which the OFWs denied. The men shaved their heads to highlight their plight. Tago warned media correspondents not to release any video or photo they have made on the stranded OFWs. Another Catholic group visited and distributed food stuffs. Migrante KSA visited and checked on their status.
09 February
- Seguis' retorts, including questions on the real number of 'stranded' and Migrante as "all talk" and "should be the one talking to the Saudi government," published in Philippine Star. Runaways from outside starting streaming to the Philippine Consulate and was asked by Tago to sign the 'acceptance of due process.' Tago met with some 20+ women behind closed doors. Consulate staff started congratulating the women who would be repatriated through deportation saying they would be sent together with the men on this day. The 24 men who accepted Tago's 'due process' was whisked away to an undisclosed location as reported in
http://www.gmanews.tv/
the next day.

10 February
- Mother of stranded OFW Joel Agana dies at dawn, 'stranded' Pinoys conduct memorial service early morning. In protest and in solidarity, the group started wearing 'black headbands' and
'Send Us Home Now!'
t-shirts. A donation box was passed around for Agana's mother. At around 10 AM, the group of 54 women from the Consulate's Welfare Center were picked up by the Immigration Police for deportation.
# # #
Reference:
A.M. Ociones
, Chairperson - Migrante Saudi Arabia
Tel. No.: +966-56-679-3202
Email:
migrante_ksa@yahoo.com
# # #